The ID.4 GTX with dual-motor all-wheel-drive

Acceleration from 0 to 100 km/h
Charging time at home (full)
Connection range (30 min. Fast charging)
Sustainable driving pleasure

0 to 100 km/h in about 6.2 seconds, zero local CO2-emissions – with the new ID.4 GTX, you no longer need to compromise to drive sustainably. Experience the sporty performance of the ID.4's two-engine, four-wheel-drive brother, with all-electric drive and high range. The new ID.4 GTX: As sporty as a GTI, as comfy as an SUV and as sustainable as an ID.
Dual-motor all-wheel drive


For all those who like a sporty drive, no matter the weather.
Dual-motor all-wheel drive

For all those who like a sporty drive, no matter the weather.
Electric power meets exclusive design

The driving pleasure of an SUV

On the go on all terrain: The innovative and sporty dual-motor all-wheel drive of the ID.4 GTX gets you where you need to be. It consists of two electric motors that drive the rear and front wheels respectively via a 1-speed transmission. Unlike conventional all-wheel drive, there is no mechanical connection between the axles. The settings activated by the exclusive "Traction" driving mode provide great grip and improved adaptive lane guidance even on loose or slippery terrain.
The new ID.4 GTX shows just how breath-taking electric mobility can be: with futuristic 20-inch alloy wheels in the exclusive GTX design, black roof characteristic of the ID.4, roof railing and the black, high-gloss air intake grille. The roof frame and C-pillar decoration come with an exclusive anthracite finish. A further highlight is the elegant strip light between the headlights and the Volkswagen logo. The lettering "GTX" up front on the wing and on the boot with diffusor brace in metallic galvano grey makes this ID.4 look truly athletic. And all that comes as standard.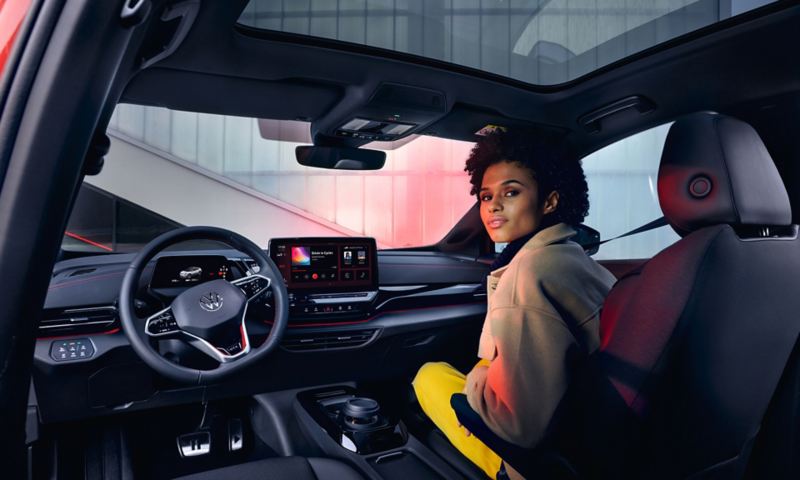 See the ID.4 GTX for yourself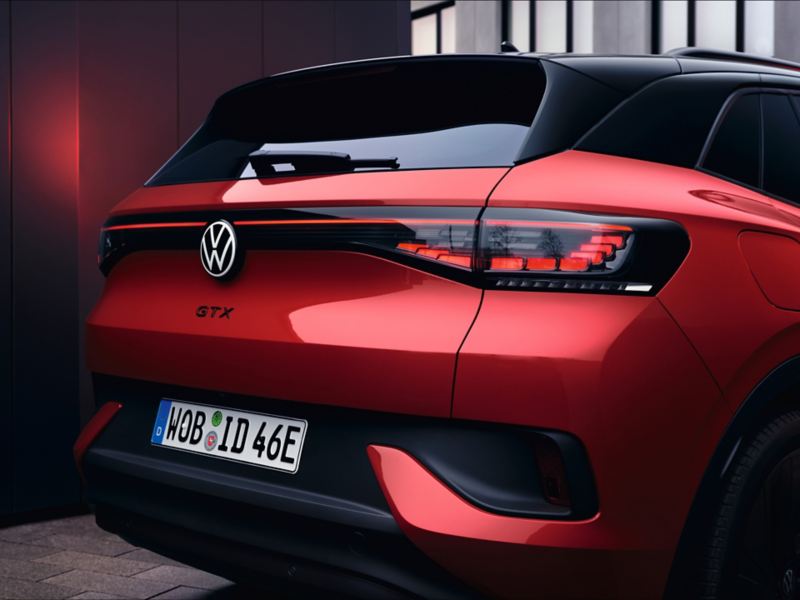 See the ID.4 GTX for yourself

Comfortably driving to the office in the morning after hitting the gym and heading out directly after work for a weekend trip laden with equipment – not a problem with the ID.4 GTX You have a battery with 77 kWh net battery capacity and a customer-focused range span of 340-480 km.