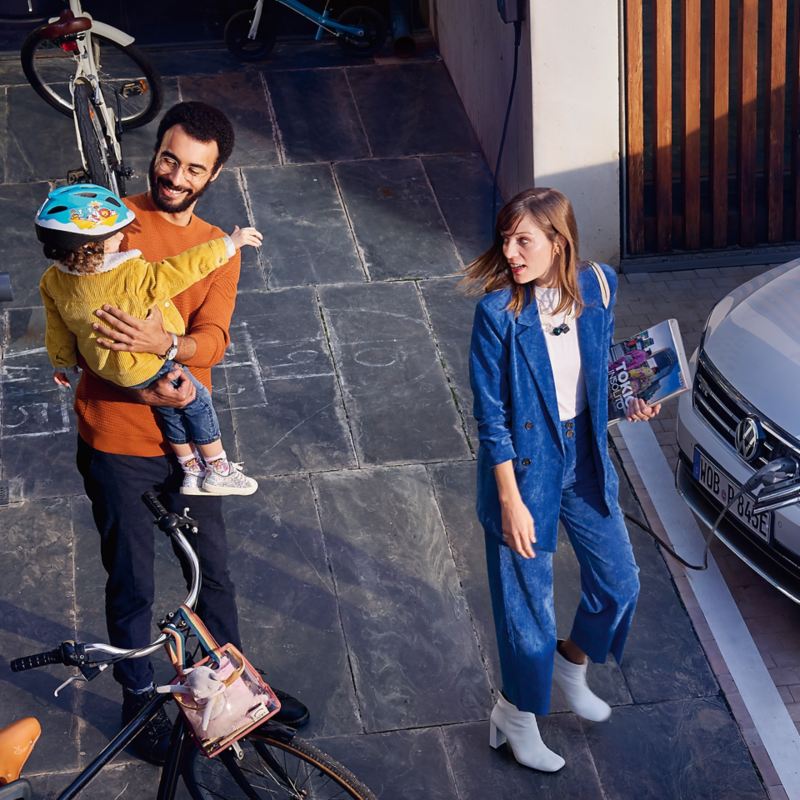 1

,

3
Register once, enjoy many benefits.

2.

fuel consumption, l/100 km: combined 1,4 - 1,3; electricity consumption, kWh/100 km: combined 12,6 - 12,2; CO₂ emissions combined, g/km: 32 - 30; efficiency class: A+

Register once, enjoy many benefits.

Every hero has a helping hand. And with the We Connect services, you've got a whole range of them. Find out which services suit your day-to-day life best and which needs have to be met. You can view all the services and options at a glance here.
The availability of the services described in the We Connect and We Connect Plus packages may differ between countries and depend on the model, model year and vehicle equipment. More information on the services available to you can be found in your myVolkswagen customer area or in the We Connect app.
Basic functions such as the Emergency Call Service and the legally require eCall Emergency System are available to you without the conclusion of a separate We Connect contract. If you wish to transfer selected personalised functions from one vehicle to another, you need a Discover Media or Discover Pro. You also need a Volkswagen ID user account and need to log into We Connect with your username and password.

Your gateway to Volkswagen's digital services and the direct connection to your vehicle: with We Connect, your Volkswagen is ready for connectivity. Following one-off activation, you can use lots of helpful and innovative online services free of charge.

Usage of these free services requires you to sign up online to a separate We Connect contract with Volkswagen AG.
| | | |
| --- | --- | --- |
| | | |
| | | |
| | | |
| | | |
| Automatic Accident Notification | | |
| | | |
| | | |
| | | |
| | | |
1) Only available with the optional Discover Pro (for Passat, Arteon and Golf) or Discover Media (Golf only) navigation systems and in conjunction with the We Connect app. Five free mobile keys are available to start with for the Passat and the Arteon and, once the function has been purchased, five mobile keys are also available for the Golf. Mobile keys can be redeemed within the first four years of conclusion of the We Connect contract. The transfer of a mobile key requires a key sender identity check through the Volkswagen Ident procedure. Following installation on a compatible smartphone, the mobile key has a one-year validity period tied to the device.
The diagram illustrates the current sales programme.
The entire world of digital services from Volkswagen brings connectivity to a new level: with your Volkswagen ID and "We Connect Plus" activation, you have access to extra smart functions: from smart navigation with real-time information and media streaming and Internet radio to using your smartphone as a remote control. For even more convenience and entertainment.
Usage of these services requires you to sign up online to a separate We Connect Plus contract with Volkswagen AG. For We Connect Plus, following vehicle handover, you have 90 days in which to register the vehicle at www.myvolkswagen.net or using the "Volkswagen We Connect" app (available in the App Store and Google Play Store) and use the services for the full duration of the free initial period (depending on equipment: for example, one year for Discover Media and Ready 2 Discover or three years for Discover Pro).
| | | | |
| --- | --- | --- | --- |
| | | | |
| | | | |
| Remote Ventilation Control | | | Golf 8, available for selected engines only, requires sufficient battery capacity |
| | | | |
| | | | |
| | | | Electric and hybrid electric vehicle |
| | | | Electric and hybrid electric vehicle |
| | | | Electric and hybrid electric vehicle |
| | | | Discover Media, Discover Pro or Ready 2 Discover once navigation is activated via We Upgrade; Voice Control |
| | | | Ready 2 Discover, Discover Media or Discover Pro; 'Streaming & Internet' package |
| | | | Ready 2 Discover, Discover Media or Discover Pro; 'Streaming & Internet' package |
| | | | Ready 2 Discover, Discover Media or Discover Pro |
| Online Traffic Information | | | Discover Media, Discover Pro or Ready 2 Discover once navigation is activated via We Upgrade |
| | | | Discover Media, Discover Pro or Ready 2 Discover once navigation is activated via We Upgrade |
| Filling Stations and Charging Stations | | | Discover Media, Discover Pro or Ready 2 Discover once navigation is activated via We Upgrade |
| | | | Discover Media, Discover Pro or Ready 2 Discover once navigation is activated via We Upgrade |
| | | | Discover Media, Discover Pro or Ready 2 Discover once navigation is activated via We Upgrade |
| Online Destination Import | | | Discover Media, Discover Pro or Ready 2 Discover once navigation is activated via We Upgrade |