A revolutionary new space concept, electric performance that inspires and intuitive ease of use that makes everything so simple. The ID.4: powerful like an SUV, sustainable like an ID.
Not all ID.4 battery sizes can be ordered at the present time. However, vehicles which have already been produced are available. Simply contact your Volkswagen partner.

Function in its most beautiful form

An urban SUV with a fantastic design concept combined with the turning circle of a compact car: the new ID.4 shows how attractive electric mobility can be. With perfectly shaped 18 inch or optional 19 to 21 inch alloy wheels, a roof railing for additional luggage, recessed door handles for improved aerodynamics, optional 3D LED tail light clusters with dynamic turn signals and another very special highlight: an optional light line that extends to the front (optional) and rear to the newly designed Volkswagen logo.
The interior of the new ID.4 is so intelligently and spaciously designed that it offers you and your family an impressive sense of space. You notice this the moment you get in: plenty of legroom, a variable centre console and comfortable seats, optionally with electric adjustment and memory function. This is rounded out by a central touch display of up to 30.5 cm (12 inches) together with a multifunction steering wheel featuring touch operation and vibration feedback. The background lighting in your chosen colours emphasises the lounge character. You can enjoy a relaxed ride enhanced by the optional tilting and sliding panoramic roof. 
The all-electric ID.4 – book your test drive now.
Would you like to experience the new ID.4 first hand?
Just suggest your preferred time for a test drive. Your local dealership will unite you with your Volkswagen.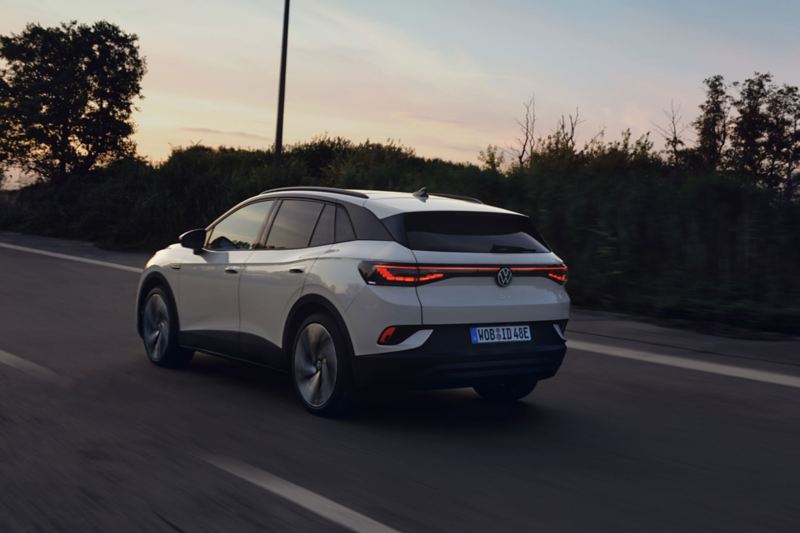 Avoid getting distracted by buttons or switches while driving. You can keep your eyes on the road and easily operate things like the radio, navigation system or your phone using the intuitive voice control. Just say "Hello ID." and the system understands you.
The optional tilting panoramic sunroof with its large glass surface extending across almost the entire width of the roof is a real eye-catcher. Even better: it gives you an unrestricted view of the sky. In addition, the tinted glass ensures pleasant temperatures. A sun blind provides protection against strong sunlight and can be operated very conveniently using voice control. Just say "Hello ID., show me the stars" and it will open.