1
Electric mobility in Europe: how far have our neighbours come?

Electric mobility in Europe: how far have our neighbours come?

Electric vehicles are on the rise: in 2018, more than two million electric vehicles were sold worldwide according to the consulting company "McKinsey". More than five million electric vehicles are now on the roads, almost half of them in China. But what about Europe?
Which European countries have the most electric vehicles

The three main reasons behind the success of electric vehicles

Why Norway, Great Britain and Estonia are regarded as pioneers

How the expansion of the charging station infrastructure is progressing
Electric mobility in Europe: constant growth

Every year there are more and more electric vehicles on the roads in Europe. The total of 97,000 new registrations from 2017 had already been exceeded by September 2018. By the end of the year, some 100,000 new electric vehicles had been registered – a new record and a major success for electric mobility when one looks back at the beginnings: in 2010, there were only 700 new registrations in Europe. 
The three EU countries with the most new electric vehicle registrations in 2018 (Source: "Statista")

Norway with more than 72,689 registrations

Germany with approximately 67,658 new vehicles

Great Britain with almost 59,947 vehicles
Electric vehicles with vehicle tax benefits

Apart from the performance, the design or the brand, there are three main reasons why European customers purchase an electric vehicle:
Electric mobility is modern. Not only environmentally conscious hipsters want to improve their CO2 balance. For example, environmental concerns were the primary focus for 29% of Norwegian buyers.

Electric vehicle drivers enjoy special privileges in a number of European cities: in Amsterdam electric vehicles receive preferential treatment when parking. In Oslo, they are currently permitted to drive in the bus and taxi lines, speeding up the journey during peak traffic.

Many European cities offer generous government scrapping premiums for electric vehicles. In Norway, electric vehicle owners do not pay any sales tax, registration tax and annual vehicle tax when purchasing the vehicle. Toll roads are also free.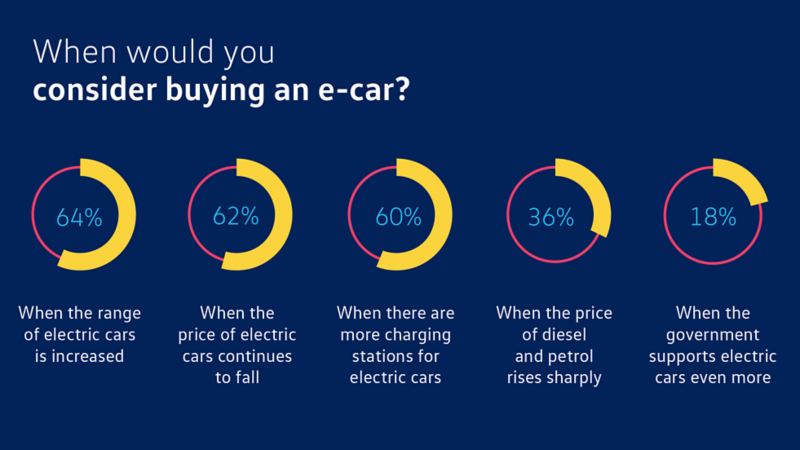 The electric vehicle as a mass phenomenon in Norway

Norway is not officially part of the EU but shares close economic links with all of the states. The kingdom with five million inhabitants has become the pioneer for electric mobility. Norwegians drive more electric vehicles than all of their other European neighbours.
The "Norwegian Electric Vehicle Association" proudly reported that at the end of 2018 almost every second vehicle purchased was either electrically powered or at least a plug-in hybrid (30% of these are pure electric vehicles, the remaining 19% are plug-in hybrids). According to the "Norwegian Road Federation", 33,025 new purely electric vehicles were registered in 2017. As such, the small country is the market leader for electric vehicles on the European continent: electric mobility has become a mass market in Norway.

Great Britain is also making significant progress in terms of electric mobility. The British electricity and gas supplier "National Grid" estimates the necessary investments at approximately 582 million and 1.2 billion euros for a quick charging infrastructure along the motorways throughout the kingdom.

The Republic of Estonia is taking things even further and taking new directions with its digital citizenship, for example. Estonia launched the "ELMO" electric mobility programme in 2011. The Estonian Ministry of Social Affairs itself purchased 507 electric vehicles and initiated a support programme for citizens for purchasing electric vehicles and expanding the nationwide charging infrastructure. In 2016, there were around 1,100 electric vehicles on the road in Estonia, half of these belonged to public authorities. Estonia makes electric mobility even more appealing: since 2014, the government has provided a subsidy of 50% of the purchase price of an electric vehicle as well as support for setting up a charging station at home.

Expansion of the charging infrastructure in Europe

The expansion of the charging infrastructure in Europe is also progressing well. "Transport and Environment" (T&E), an umbrella organisation of non-government EU organisations for sustainable mobility, estimates that there will be no lack of charging stations provided that all of the EU members achieve their electric targets.
The European Commission recommends a quota of ten electric vehicles per public charging station. The United Kingdom has already constructed its charging infrastructure with a view towards this. In comparison, the European average is currently six electric vehicles per charging station.

According to "T&E", there will be 15 electric vehicles per public charging station in France, Austria and Germany in 2020. This remains a good value, estimates "T&E". Apps and digital maps that make the European charging station network transparent are an important aid. For example, the mobile app from the "Chargemap" start-up in Alsace shows every charging station along the route through the various countries. This guarantees a clear journey throughout the EU.